Choose Weekly, Biweekly, or Monthly Cookie Subscription?
With a cookie subscription, you will always have fresh stroopwafels on the way!  Your stroopwafels will be 100 percent fresh every time and we guarantee you'll love every bite. 
Even better, you'll know that your stroopwafels will arrive on time. You can count on it.  If you need it for a special family breakfast or a meeting at work, you'll have the box ready on your doorstep in plenty of time.
There's nothing more delicious than a stroopwafel with your coffee in the morning or at night on a bowl of ice cream.  You'll have enough to indulge your love of this Dutch caramel cookie whenever the mood takes you.
In fact, with eight in a package, there's enough for the whole family or your team of workmates.  You'll feel like sharing because you'll know that your supply of stroopwafels is potentially endless. You never have to find those industrial stroopwafels made overseas ever again.  
A cookie subscription box saves you money and delivers the best stroopwafels straight to your door.  They'll be baked fresh and sent to you quickly.  There's no ocean between us and you.  There's no excess sitting around getting stale in some European port warehouse.
These are made under the supervision of a Dutch stroopwafel maker and his family here in the United States. We can promise freshness because we make them upon request.  
If you have a subscription box, you'll know that your stroopwafels were made and packaged with you in mind. You'll also know that our serious effort to provide quality, fresh Dutch caramel cookies is twice as serious for our regular subscription customers.  
We think of our regulars as fellow travelers. They are those who love the European and Dutch flavors, those who wish they lived in Europe or those who once lived there. Our customers have discriminating taste, and we make sure our stroopwafels live up to their expectations.
 Sign up for a weekly, every other week, or monthly service. 
Are you sure that eight is enough?  Maybe you should check out our other subscription box choices:
24 singles Cookie Subscription Box (individually wrapped)
6 x 8-pack (48) Cookie Subscription Box
| | |
| --- | --- |
| Weight | 17 oz |
| Dimensions | 8 × 8 × 4 in |
| Delivery Frequency | Weekly, Every Other Week, Monthly |
Google Reviews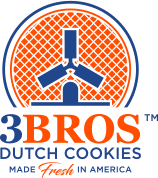 Based on 90 reviews