Why Choose to Buy a Case of Dutch Caramel Cookies?
Everyone likes to save money.  That's definitely why some customers buy a case of stroopwafels at a time. 
There's no doubt that you can save money on your stroopwafel supply with this special offer.  A case of 144 Dutch caramel cookies is a good deal, and it will last you a long time.  
With this case of stroopwafels, you'll have plenty to eat, share, and freeze. 
What are Dutch Caramel Cookies?
If you haven't heard of stroopwafels, you aren't unusual. Many Americans have no idea that these Dutch caramel cookies exist. After all, most Americans didn't grow up in Europe, much less Holland.  
In fact, if Americans are familiar with the treat, they may have flown an airline that served them. Or, they discovered the imported ones that spend months in transport and warehouses. Those Dutch caramel cookies are usually dated 12 months after production! 
When 3Bros started, it was precisely because freshly made stroopwafels are super rare in the United States. That's how our family — a blend of a Dutch dad, an American Mom, and three sons —  got started bringing stroopwafels to local fairs and ended up starting a family-run bakery where we can make our stroopwafels fresh right here in Georgia. 
Who chooses to buy a large case of stroopwafels?
Individuals and Couples — Eat some and freeze some. Share some and make some new friends!  Include the treat in your next brunch with friends. Add them to a celebratory breakfast.
Families — Turn stroopwafels into a new tradition. They are awesome as part of breakfast because they don't require any special preparation. Your family can enjoy Dutch caramel cookies and you won't have to spend an extra minute in the kitchen. 
Bosses — Share a special treat with your employees. Turn their coffee break into something more interesting. Make a meeting less of a chore with stroopwafels as a sweet incentive.
Event Planners — Use these Dutch caramel cookies to impress guests at a continental breakfast or a coffee break. 
Dutch Caramel Cookies and Teachers: A Perfect Pair
Stroopwafels are such a fun treat that a case of Dutch caramel cookies is a good idea for all types of teachers. Here are some examples of ways to spice up the curriculum with a case of Dutch caramel cookies. Stroopwafels are always welcome in the classroom!
Kindergarten — Snack time can be time to learn.  What is a circle? What is a stroopwafel? Something tasty!  
Social studies — Surprise your class with a special snack and use it to teach them more about the Netherlands or Europe. They will love it whether they are third graders or high school seniors. 
Math — Engage your class with a discussion about travel.  The Netherlands is about 7,525 km or 4,676 miles from the United States. How far is it from where you live? How long will it take on a plane? 
Science –Discover how the stroopwafel changes when exposed to a coffee's heat. What else is affected by temperature changes? 
We could go on and on about the ways that a case of stroopwafels can be beneficial.  Suffice it to say, it's the best deal on the freshest Dutch caramel cookies you can buy in the United States.  
| | |
| --- | --- |
| Weight | 142 oz |
| Dimensions | 14 × 10 × 8.5 in |
Google Reviews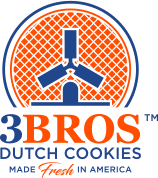 Based on 88 reviews