Get Your Caramel Fix with this Cookie Subscription Box
Whether you love caramel cookies, stroopwafels or both, you'll love this money-saving cookie subscription box. It's a case of the freshest stroopwafels you'll find on this side of the Atlantic ocean.
Made here in America, these famous Dutch caramel cookies are baked fresh daily and shipped to our subscribers and other customers.  With a subscription, the freshness just keeps coming on a weekly, biweekly, or monthly basis.  
This large subscription box is enough to keep a family very, very happy all month.  It's perfect for an office setting where managers want to bring something different and fun to their employees. 
Need a quick gift? There's nothing sweeter than sending a regular supply of delicious stroopwafels. Yum!
Why Choose to Subscribe?
Why should you subscribe? Well, first you won't ever have to eat another stale stroopwafel again. That's reason enough.
Beyond that, you get a lower price per stroopwafel. This means you are saving money on your favorite caramel cookies.  So, you can get them fresher, cheaper, and on a regular basis.  What's not to love?
Furthermore, you'll never have to drink coffee without a stroopwafel again, unless you want to.  You'll have a ready supply to go with your favorite hot beverage every breakfast or coffee break.
In fact, you will have enough that you can put some on your ice cream. That's a favorite Dutch tradition that is even lesser known than the stroopwafel itself.  Yet it's one of the most delicious things you can do. There's something so right about these caramel cookies on your favorite ice cream. 
If you are a wholesaler, be sure to contact us directly for information. You are also invited to check out these cookie subscription box choices:
24 singles Cookie Subscription Box (individually wrapped)
| | |
| --- | --- |
| Weight | 80 oz |
| Dimensions | 14 × 10 × 9 in |
| Delivery Frequency | Weekly, Every Other Week, Monthly |
Google Reviews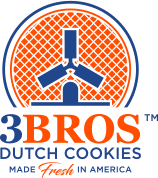 Based on 90 reviews