Why Choose a Caramel Waffel Cookie Subscription Box for Your Family
As you may know, stroopwafels and fresh are two words rarely said together in America until now.  Most stroopwafels in the U.S. were factory-made in Holland and shipped here. Now imagine what it would be like to have your favorite treat fresh and ready in your own home.
That's why we created 3Bros. That's why we have this cookie subscription box of 96 stroopwafels. To ensure freshness, there are 12 packages of classic caramel waffle cookies. If you are wondering about wholesale, we have that too. You just need to contact us to find out what to do to get wholesale prices.
Speaking of price, this is the cheapest you can buy fresh stroopwafels that have been made with care the way that they are made in the Netherlands. Our founder (and 3Bros Dad) grew up with the famous stroopwafel cookies, and he makes sure that all customers get their stroopwafels delivered as quickly as possible. 
So turn your home into a European cafe with a regular delivery of 3Bros stroopwafel cookies.  Your coffee will rejoice. Your ice cream will scream with delight.  And the kids will do their chores just to partake in this caramel goodness.
Here are your other subscription box choices:
6 x 8-pack (48) Cookie Subscription Box
24 singles Cookie Subscription Box (individually wrapped)
| | |
| --- | --- |
| Weight | 142 oz |
| Dimensions | 14 × 10 × 9.5 in |
| Delivery Frequency | Weekly, Every Other Week, Monthly |
Google Reviews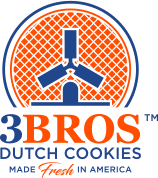 Based on 90 reviews