Why Should You Get a 3Bros Cookie Subscription Box?
It is very, very, very rare to find stroopwafels freshly made in the U.S. That's the big reason we at 3Bros started our own bakery, and that's the big reason that many people like you are taking advantage of our cookie subscription box. 
Like us, you want fresh stroopwafels and not the stale ones found in the few stores that carry them. You want a true alternative to the imported ones that spend months in transport and warehouses.  And we not only make the alternative, but we also make it easier to get fresher stroopwafels regularly without leaving home!
Individually Wrapped Cookies are a Solid Choice from 3Bros
Our 3Bros bakery sells stroopwafels two ways. They may be in an eight-pack, and that's how many of our customers want them. They may even be in quantities of 48 (six 8-packs) or 96 (12 8-packs).  However, just as often people prefer our individually wrapped cookies in packages of 24. 
Each caramel cookie waffle from 3Bros is made fresh in our bakery. Just because it's individually wrapped doesn't mean it has been manufactured in a faraway factory in Europe.  Rest assured, these are still the absolute best caramel cookie waffles that you can find in the United States.
Our Georgia bakery fills your order and sends them fresh to you as fast as possible. Our goal is to get them in your hands as quickly as possible.  Individually wrapped cookies are the perfect singles.  With 24 in a box, you can't go wrong.  Order now.
Is this the quantity you wanted?  Do you need them individually wrapped or would you prefer them in packages of 8? Check out our other subscription box choices:
12 x 8-pack (96) Cookie Subscription Box
6 x 8-pack (48) Cookie Subscription Box
| | |
| --- | --- |
| Weight | 37 oz |
| Dimensions | 11 × 6 × 6 in |
| Delivery Frequency | Weekly, Every Other Week, Monthly |
Google Reviews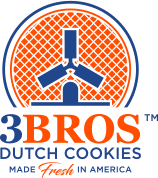 Based on 90 reviews