The Stroopwafel Mug: Easiest Instructions Ever!
Not since mugs were sold with the saying "This End Up" has a mug been so bold as to tell you where to put it. The stroopwafel mug from 3Bros is that mug, and here's what you need to know to make it work for you and your lifestyle.
Fill the mug with your favorite hot beverage
Place a stroopwafel on the rim for about a minute
Enjoy your stroopwafel
Wow. That is easy and delicious! Who could resist? Social media post, 'never leave your stroopwafel unsupervised' 3Bros Stroopwafel disappearing act #dunk
Stroopwafel Mugs are Conversation Pieces
This stroopwafel mug is definitely a conversation piece. You can bet that people will want to talk about it when they see it.  It is sure to bring up hard questions about stroopwafel cookies. Be ready for questions like these:
Gifts with Stroopwafel Cookies and Mugs
There are other ways to give the gift of stroopwafel cookies and mugs. Here are some fun and affordable ways to extend the gift of Dutch caramel cookies to your friends (or yourself).
Stroopwafels with Mug
This all-occasion cookie gift box combines the stroopwafel mug with an 8-pack of our fresh stroopwafel cookies. The gifts are cushioned in fancy orange crinkle-cut paper.
You can add a personal note that will tell your friend just who was kind enough to think of them, celebrating their birthday, graduation, anniversary, holiday, any time!
Stroopwafels, Snippers and Mug
Why choose this cookie gift box? Well, it's got even more stroopwafels, and it's definitely a good pick for any occasion, too.  The stroopwafel mug is a keeper, a memento of your thoughtfulness. The 24 individually wrapped stroopwafels will just leave sweet memories. A bag of Stroop Snippers will teach the uninitiated how to add flavor and contrast to their ice cream, yogurt, and more.
As with all of our products, you can add a personalized note during checkout. This box arrives with orange crinkle-cut paper for cushioning.
Other 3Bros Gifts for Stroopwafel Lovers
For the ultimate gift for a stroopwafel lover, you could get a 3Bros t-shirt to go with the mug.  Those come in either blue with orange lettering or orange with blue lettering.  "I love Stroop"
The 3Bros T-shirt Gift box comes with three 8-packs of Stroop for a total of 24 stroopwafels.  You'll want to order the mug to go with it!
This stroopwafel mug is sure to get a laugh, and it's sure to get lots of use.  Order now!
Google Reviews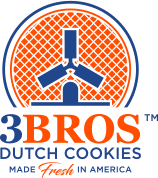 Based on 90 reviews