I LOVE STROOP Cookies Shirt w 3x bag of 8 stroopwafels
$35.00
For the serious stroopwafel lover in your life! Or just for you! Show off your love of STROOP with this high-quality cookies shirt and enjoy 18 fresh 3Bros stroopwafels to boot. 
All packaged in orange crinkle-cut paper.  We will include a note with your personalized message that you can enter as "Order Notes" upon checkout. We make gifting easy and will do the shipping for you at competitive rates.
Please specify the size (M, L, or XL) and color (blue or orange) of the T-shirt.
This is also great for corporate gifting! We will print your message and logo on a custom-made card that fits in the box.
For larger and special orders, please send us a message by clicking "CONTACT" at the top of the page.
Cookies Shirt and Gift Box: The Perfect Combo
You (or the Stroopwafel lover in your life) will look good in a cookies shirt that proclaims your love of stroopwafels.  We really like the design on this high-quality tee with the 3Bros windmills to remind you of Holland, the native home of our caramel cookie treat.
The t-shirt comes in two colors. You can choose from a royal blue or a handsome orange. Those aren't just random colors. They are the colors of 3Bros.  Plus, orange is a royal color in Holland where it represents the House of Oranje and a long line of Dutch kings and queens.
If this is a gift, it couldn't be sweeter. There are 18 stroopwafels in three packages of eight.  This may encourage — although it doesn't require — sharing.  The orange crinkle paper adds to the presentation.  You'll need to specify medium, large or XL for the cookies shirt.  
There is a place to write to your friend or family member. Just watch for order notes toward the end of the ordering process.
If you own a company, this gift box is a real treat for your clients or employees. We can include your logo. Just ask us by clicking Contact! 
Send fun thoughts with Fresh 3Bros Stroopwafels!
Google Reviews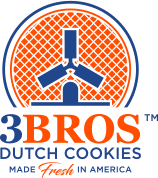 4.9
Based on 73 reviews