Why Choose this Cookie Gift Box?
Why should you choose this particular gift? That's a good question.  Here's what makes this cookie gift box of individually wrapped cookies so special. 
First, it is food. Everyone loves food. These stroopwafels are sure to please just about anyone who likes to eat.  Do they love sweets? Check! Do they like to try new things? Check! Are they foodies, big travelers or specialty item lovers?  Check and double-check!
Second, this isn't just any cookie gift box. It is truly original. You thought of it! Many people don't know about stroopwafels and won't know what a great gift they make. But you did! You chose this, and the recipient is going to be surprised at this unique gift.
Third, this cookie gift box is generous but not overly expensive. In fact, for the quantity and quality, we'd say this gift box is a little underpriced. 
Fourth, this is the sort of gift that appeals to everyone.  For your grandmother? She'll love it. Or did you mean granddaughter?  She'll love it, too. Stroopwafels are the favorites of people of all ages. 
Fifth, this cookie gift box really shows off what's so great about stroopwafels.  It's not randomly selected items. This is a smart trio in a festive box.
The mug shows the coffee lover how to make the most of their stroopwafel break.  (It's not just a coffee break anymore.)  
The 24 individually wrapped cookies can be eaten by one person over a month's time or shared in a large family group or busy office meeting room.  
The snippers show off another facet of stroopwafels. These pieces are perfect for ice cream. Did you know that's another favorite thing to do with stroopwafels?  As an ice cream topping, they are delicious!
Individually Wrapped Cookies in a Gift Box
For many people, the fact that these are individually wrapped cookies is a big deal. After all, you want your gift to last, and this guarantees a long period of freshness because these singles are opened one at a time.
While we personally like our 8-packs, we know that individually wrapped cookies are a preference as well. This large 24-pack box is generous, providing an individual with almost a month of treats. Even when it is divided up among family, friends, or coworkers, a box of 24 singles goes a long way. 
By the way, do you know why orange is in our logo? Or why it is used for the crinkle paper that dresses up a 3Bros cookie gift box?  The House of Oranj is another name for Dutch royalty. On Koningsdag in the Netherlands, you'll see many people dressed up in orange. 
Now that you know more, order now!  Your stroopwafels will soon be made and on their way to the lucky recipient.
Google Reviews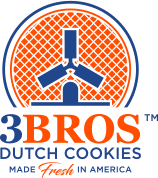 Based on 90 reviews