This is the Cookie Gift Box for All Occasions
Are you looking for a gift?  Well, this cookie gift box is probably a perfect fit.  It's an affordable way to tell someone that they are special. 
Sure, stroopwafel cookies aren't an everyday kind of thing in the United States. That's exactly why this gift shows you put some thought into finding a unique present for your friend or family member. In the event they are already a fan of stroopwafels, well, you've scored there, too.
Is it right for the occasion? Well, our customers order a cookie gift box from 3Bros to celebrate the birthday of a friend or relative. They purchase a cookie gift box for Mother's Day, Father's Day, Easter, Christmas, and many other holidays.  It's even a logical gift for a high school or college graduation. 
With this cookie gift box, it's special because many times the recipient hasn't heard of stroopwafels, and the coffee mug makes it really clear how to warm the stroopwafel, just in case they don't know.  You can be certain, too, that the lucky recipient will love their sweet treats.
By the way, we include orange crinkles to create a festive feeling when the box is opened. Orange is a traditional color in Holland, related to Dutch royalty.  You'll see the royal color all year round, but especially on Koningsdag.
Why is it the Perfect 'Any Time' Cookie Gift Box?
This cookie gift box can also be a 'just because' present.  It's a more unique idea than sending flowers or candy. Plus, it's unexpected, adding the element of surprise to the joy of receiving a gift.
Why just because?  Perhaps there's someone who has moved away and is missing home. Perhaps there is someone who is recovering from an illness. Perhaps you have a friend far away who is feeling down. 
This box is also an excellent ''thank you' present. And don't we all have a lot of people to thank?  What a nice way to say 'thanks for letting my family stay at your house? Or 'thanks for being a great teacher? Or, 'thanks for helping us move'? 
Whatever the reason you send this cookie gift box, you'll brighten their week with eight sweet treats. That's one a day plus an extra, just because! Order now.
Google Reviews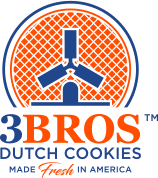 Based on 90 reviews