Try Our Snippers – Dutch Cookie Cuttings
What are our stroopwafel snippers, you may ask? Why should you want them? How do you use them? We've got all the answers right here.
Snippers are the stroopwafel edges that are "snipped" off right after baking our cookies. That's how our stroopwafels become perfect circles.
This practice is very common in the Netherlands, where stroopwafels originate from.  In Holland, you'll find that this yummy by-product of stroopwafel production is commonly sold at markets. You may get it in a paper cone to enjoy on your way to work, after lunch with your coffee, or on the way home from a long day at the office.
We have found our American customers really love the chance to enjoy snippers, too.  Unlike Dutch bakeries, we can send them to you extremely fresh. This means they will be extremely good!
Besides, if we didn't sell them, the family would take them all home and eat them day and night.  So it's best to spread the love and joy of snippers to our customers. 
How to Use Our Stroopwafel Snippers
What do you do with stroopwafel snippers? Some people just eat them out of the bag as a snack. 
You can use them on ice cream, frozen yogurt, gelato or sherbet to add more flavor and texture.  Instead of granola in your favorite yogurt, you can try these mini stroopwafel snippers instead.  
These mini stroopwafel snippers are an awesome ingredient when you're making a pie or baking with fruit. Just imagine snippers as the topping of an apple crisp or a blueberry cobbler. They can take the place of graham cracker crusts, providing a more flavorful contrast.  You can put them in the bottom of a cheesecake to complement its creamy flavor. 
Here's a recipe that tells you how to make a cake out of mini stroopwafel snippers: Stroopwafel cake recipe.  It's really easy to create something delicious since you are starting with delicious ingredients!  
Do you have suggestions about how to use our mini stroopwafel snippers?  We'd love to hear about them.  Email us and let us know your ideas. 
First U.S. Snippers Ever
To our knowledge, we are the first company to sell mini stroopwafel snippers in the United States!!
Google Reviews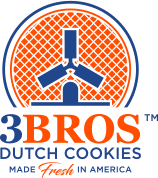 Based on 90 reviews