Why Choose 3Bros Individually Wrapped Stroopwafels?
Our signature classic caramel handmade stroopwafels are offered in handy individual packs to share. You can put them into your purse, lunch box, or briefcase. Since they are easy to bring along, you can enjoy them wherever you go and whatever you are doing.
What's more, did you know that stroopwafels are ideal for athletes! Stroopwafels are a popular item with cyclists and runners because the stroopwafels will provide a quick boost of energy that lasts.
Some people like them this way so much that they order our special cookie subscription box of 40 or 80 stroopwafels. These individually wrapped cookies can show up at your house on a regular basis, ready to make your days sweeter. 
In fact, many office managers take advantage of our individually wrapped cookies and offer them in the break room at work.  They get cartons of 40 singles because it keeps the treat fresh and ready.
We also do wholesale orders after a simple application.  Our individually wrapped cookies are definitely a favorite for cafes and coffee shops.
Who's on your gift list? We also offer a cookie gift box of 40 singles. You can send it to your favorite uncle for his birthday or surprise your favorite niece at college. 
What You Should Know About 3Bros Stroopwafels
Our stroopwafels are made according to the original and authentic Dutch recipe in the 3Bros family bakery in Fayetteville, Georgia. By individually wrapping our cookies, we capture the freshness for those who want singles rather than our traditional eight packs. 
3Bros stroopwafels are extra yummy when warm. So, when you unwrap your individually wrapped cookies, remember this:
The traditional way to warm them is to place the unwrapped stroopwafel on the rim of a cup of hot coffee or tea. You can also use a microwave, but only for about 6 to 8 seconds to achieve yummy goodness. Just a few seconds, really! Anything more could overdo it. 
When your individually wrapped cookies from 3Bros arrive, you should try to keep them cool. Ideally, you would put them in your refrigerator. In fact, with these individually wrapped stroopwafels, you can put some in your freezer to eat in a month or two, if someone doesn't gobble them up faster than that.  It is possible to keep 3Bros caramel stroopwafels fresh for up to a year in a freezer.
Ready to enjoy a special treat?  Shop our store now.
| | |
| --- | --- |
| Weight | 64 oz |
| Dimensions | 12 × 8 × 6 in |
| Choose an option | Case of 20, Value Case of 80 |
Google Reviews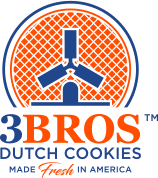 Based on 90 reviews