Millennial Chocolate Dipped Cookies Are Finally Here!
Chocolate is known for three varieties: milk, dark, and white.  But very recently a new chocolate variety was developed.
It was announced in China first, but Japan was the first to try it. Ruby Chocolate is made from Ruby Cocoa Beans found in Brazil.
The dark pink color is NOT made with food dye.  It's a naturally occurring color developed from Ruby Cocoa Beans.
It has a delicious fruity chocolate taste.
All of this is what makes it so special.  Chocolatiers have dubbed it "millennial chocolate" because it meets the requirements for food that have been established by the millennial generation.
This sweet chocolate is not artificial in any way. It's unique, and it's natural. The color is new and inventive. What's not to love?
You can order Ruby Chocolate-dipped cookies from 3Bros.  Your Classic Caramel 3Bros Stroopwafels will be made fresh and then hand-dipped in Premium Ruby Chocolate. Then they will be shipped to you quickly!  
Our company's goal is to bring you the freshest stroopwafels you can get in the U.S.  And with the Ruby Chocolate-dipped cookie variety, we are bringing you a European treat truly like no other. 
Are you ready to find out why this rich reddish chocolate is the chocolate for our century!??  Yum, yum!  Order some now!
Google Reviews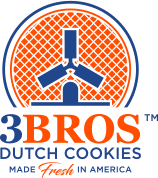 Based on 90 reviews