Consider the Stroopwaffel, the Most Unique Individually Wrapped Cookies You Can Buy
So, hmmm, what is a stroopwafel?  This treat is a caramel cookie that has been made by the Dutch for hundreds of years.  It's a favorite for breakfasts in homes in Holland, especially in the region around Gouda where it was first made.  It's a favorite whenever a person is on coffee break, and it's a favorite for those who love cookies with their ice cream.  
Now that we've got that settled. Let's talk about the 3Bros company with our U.S. bakery and Dutch roots. We decided that Americans needed fresh stroopwafels. One way we provide them is with these 24-packs of individually wrapped stroopwafels. 
You just need one per person, and this makes it easy to do it in the freshest way possible. In-office settings, coffee shops, cafes, and many other places, having individually wrapped cookies just makes sense.
So, that's why we make them and why we individually wrap them.  With 24 in a package, there's a lot to share. Or, you can just have 24 of the best morning coffee breaks ever. It's your choice.
Since the package is full of orange crinkle paper and a note (which you can add during checkout), this high-quality treat is a personalized gift.  What fun for the person in your life who deserves something special.
Pros and Cons of a Gift Box of Individually Wrapped Stroopwafels!
Many people debate whether they want individually wrapped cookies in a box of 24 or if they would prefer our 8-packs of stroopwafels. Here are the reasons people choose a gift box of individually wrapped stroopwafels.
Obviously, the individually wrapped cookies are a favorite when you are always busy. It's easy to grab one and take it with you to work or to work out.
It's easier to share individually wrapped cookies, especially in a commercial setting. 
Athletes really like an energy boost and they get one from a 3Bros stroopwafel. That's why they like individually wrapped stroopwafels.
It's easier to freeze these stroopwafels since they are already packaged as singles.  Did you know these will stay perfectly good for up to a year in your freezer?  
Ready to order fresh individually wrapped stroopwafels from 3Bros? We bet that 24 out of 24 people will find them absolutely fresh and delicious!
Google Reviews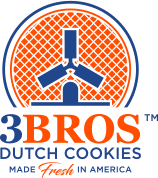 Based on 90 reviews