This Dutch treat is usually round, but for love, we make an exception.  These heart-shaped cookies are a real favorite to say 'I love you'.  When you are ordering, you can put a special message in the section marked "Order Notes".
While often sent as gifts, these heart-shaped cookies are also bought by those who are thoughtful enough to want to surprise their romantic partner or family member by including the sweet treat in person on a special day.  Or, perhaps, simply make the day special by including the heart-shaped cookies.
Imagine what it's like to be surprised by these heart-shaped cookies on a breakfast tray, with an everyday cup of coffee, or in a bowl of ice cream. What a lovely way to say 'I love you!'
What to Do With Heart Shaped Stroopwafel
Heart-shaped cookies are an obvious choice on Valentine's Day, but they can come in handy year-round.  Check out these ways that our other customers have been putting our heart-shaped cookies to work.  Betcha didn't know that stroopwafels had so much love in 'em!
For Lovers:
Adding a sweet touch to anniversaries
Making breakfast in bed extra special
Turning a coffee break into something romantic
Putting a loving spin on a birthday present
Turning an everyday moment into something special
Saying 'I love You' just because…
For Family Members:
Surprising Dad on Father's Day or his birthday
Surprising Mom on Mother's Day or her birthday
Making a special breakfast for a special kid on a birthday or any day
Reminding grandparents that they are loved
Treating aunts and uncles to a welcome surprise
We make our heart-shaped Stroopwafels in a very similar manner to our regular stroopwafels. The difference is, as you can see, that they are shaped like hearts.  They have the same sweet goodness that you'll find in all of our Dutch cookies.  There's the cinnamon cookie for you to hold and the caramel in the middle that grows syrupy when perched on the top of a mug of hot coffee. 
Now that you know more, order some heart-shaped cookies and spread the love!! 
Google Reviews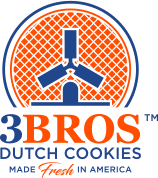 Based on 90 reviews