The Ultimate Combination: White Chocolate Cookies and Stroopwafel
Have you been looking for white chocolate cookies, but you can't find anything new? Welcome to 3Bros Bakery! We are a U.S. family-run business that is ready to send you special Dutch stroopwafel cookies dipped in luscious white chocolate.
At 3Bros Bakery, we love to create special treats.  Stroopwafels are naturally yummy with their crunchy outside and their syrupy inside. Then we take them and dip them in white chocolate for those who are big fans of white chocolate cookies.
These white chocolate cookies are just one way we dress up stroopwafels. You can also get:
Milk chocolate dipped cookies
Ruby chocolate dipped cookies
Bacon and Chocolate dipped cookies
Why not order an assortment?  You can use our online chat to discuss the best way to get the different types of stroopwafels you want.  
The Unique Taste of White Chocolate
White chocolate was developed almost 100 years ago. It definitely has a different taste than regular chocolate. Some people think that it has a vanilla flavor, but many white chocolates are not made with vanilla.
We choose our white chocolate exactly like we choose our milk chocolate and ruby chocolate. Since we are making a European product, we prefer to use European chocolates for dipping. It makes all the flavors come together well.
You can pair a white chocolate-dipped stroopwafel with your hot coffee or tea. It is good as a desert, as a quick breakfast, or as a snack. 
Now that you know more, put some white chocolate cookies in your cart. 3Bros promises they'll be fresh and delicious and probably like nothing else you've had before!
If you have questions, try our online chat or contact us here.
Google Reviews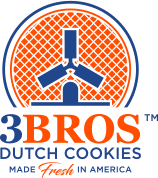 Based on 90 reviews