What is a Bacon and Chocolate Dipped Stroopwafel?
Bacon and chocolate-dipped stroopwafel is an everyday kind of treat that will make you feel like there's a holiday. At work, it's the ultimate coffee break. At home, it's a fast breakfast that gives you all the tastes you love.  
On the outside, the bacon provides a savory beginning.  Then your tastebuds meet the quality chocolate. It's a specially chosen European variety that melts into the cookie but holds its taste even as other flavors enter the experience.
Your teeth dig into the crunchy stroopwafel. Your mouth now enjoys the differing textures of smooth chocolate. Then, just when you think it can't get any better than that, your tongue gets a surprise from the syrupy middle of the classic Dutch cookie.
This is the very definition of the word delicious.
Why combine bacon and chocolate?
In recent decades, chefs and gourmets everywhere have been experimenting with combining the savory taste of bacon with something sweet or surprising. There are bacon-sprinkled cocktails and bacon-infused lattes.  You'll find bacon on donuts, cupcakes, and other desserts. Cooking shows can't get enough of new combinations.
That's why we came up with our own special sweet-and-savory treat.  A bacon and chocolate stroopwafel is a tastebud surprise!  
What is Ruby Chocolate?
As its name suggests, ruby chocolate is a pinkish-red color. That's a color that originates with this particular cocoa bean without adding any dyes. The taste is different, too, with a fruity quality that sets it apart as different from traditional milk chocolate. 
Ruby chocolate is a sophisticated new flavor that is so much fun to include on 3Bros products.
When we dip a stroopwafel in it, we are creating a contrast in smooth and crunchy textures and inviting a blend of the fruity chocolate to mix with the cinnamon goodness of the famous Dutch cookie. 
When we add bacon, we are adding a savory accent that contrasts well with the other tastes already present in the ruby chocolate and stroopwafel.
When is National Bacon Day?
There are two days that celebrate this favorite breakfast meat. The official National Bacon Day is on December 30.  Some extra bacon is a fun way to end the year. 
International Bacon Day was declared by a college group as the first Sunday in September, and the idea has caught on. What better way to mark the beginning of the school year than with a bit of bacon!
It seems that everyone is capable of celebrating bacon twice a year or maybe twice a week!  Now that so many people are enjoying bacon and chocolate treats, it seems like that may need a special celebration day as well.
Celebrate Bacon and Chocolate Today and Every Day
Ready to enjoy some bacon and chocolate? Order some of these bacon and chocolate stroopwafels and get ready to see what the term "sweet and savory" really means.
Google Reviews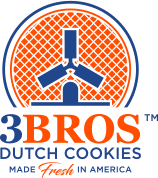 Based on 90 reviews