The S'mores-stroopwafels are more than the typical Smores Cookies, It's our fusion of American and Dutch favorites. We dipped a stroopwafel into delicious European milk chocolate and topped it with 3Bros Snippers and Marshmallows. Absolutely delicious!
What are 3Bros Smores Cookies?
Our smores cookies are Dutch goodness with an American twist! Always handmade, our stroopwafel takes the place of those boring graham crackers. The Dutch treat is dipped in delicious European chocolate, topped with Marshmallows and 3Bros Snippers!
How Our S'more Cookie is Like "the Real Thing"
We are proud to say that our S'more Cookie is unique to our company. The sweet concoction was devised by the 3Bros Dutch and American bakers. In other words, the whole family got into designing a smores cookie that would reflect traditions of both the Netherlands and the U.S.
This idea recognized the thing that the S'more and Stroopwafel have in common. As you probably know, the stroopwafel is made to be heated by your cup of coffee. This makes it a perfect choice for smores cookies. After all, the traditional S'more is also heated.
On our special Dutch-American creation, you'll find marshmallows because that's essential. And you'll find snippers, which are the extra pieces we make when we trim our stroopwafels into circles. Then you may be expecting the traditional American candy bar chocolate, but think again.
We use special European chocolate for dipping our s'more cookie. After all, the whole point of eating one such cookie is for you to say give me s'more. Nothing encourages someone to ask for seconds like the rich chocolates made in Europe.
Google Reviews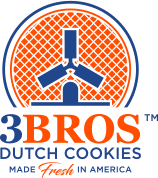 Based on 86 reviews