Case of (12) 8-pack Caramel Cookie Waffle — 96 Stroopwafels (12×8)
– Great Value – 12 packs for the price of 10 !!
–That's 96 stroopwafels for the price of 80!!
–Our Stroopwaffel = the Famous Dutch Caramel Cookie Waffle
– Made Fresh in America 
– Shipped from Georgia within days after baking
– No artificial flavors, colors, or taste enhancers
– Be careful! You may just eat a whole bag at once …
Are You Familiar with the Famous Dutch Stroopwafel?
Perhaps, you are familiar with the famous Dutch caramel cookie waffle treat, known as the Stroopwafel?  If you are, you know how good fresh ones can be. If you don't know, it's time to find out.  If you don't think you like this treat, it's probably because you haven't experienced freshly made stroopwafels.  After all, the imported ones spend months in transport and warehouses. Our Dutch family grew tired of eating old stroopwafels that are usually dated 12 months after production! So, we now make them fresh right here in Georgia, U.S.A. That makes it fast to ship them from us to you.  Frankly, the case of stroopwafels is such a favorite with our customers. You get a whole supply sent fresh to your home or business.  With 96 stroopwafels for the price of 80, you will have a big supply of caramel cookie waffles for home, work, or anywhere a cup of coffee is being served.
Putting True Dutch Flavor in Our Caramel Cookie Treats 
You don't need to be Dutch to love a good stroopwafel, but you do need a strong background in Dutch baking to know how to make one.  Fortunately,  the 3Bros' dad is from the Netherlands and grew up eating this caramel cookie treat.  He has the skills to take the stroopwafel from his imagination to a strong finish.  Once his wife and their sons — the 3Bros — got a taste of the treat, they knew that Americans have been missing out on something really special.  When you order the value-packed case of stroopwafels, you are getting all that fresh flavor.  There are no artificial flavors needed because 3Bros creates its own caramel filling and makes its own waffles from scratch.  These are made fresh and then combined into the famous stroopwafel.
3Bros cookies are made on-demand, ensuring that your case of stroopwafels is absolutely as fresh as it can be.  You'll know just how good it is when you sit down to a cup of coffee. You'll take a moment for the coffee to warm this caramel cookie waffle treat.  Then you'll savor every bite.  When you reach for more, that won't be a problem. There are 96 stroopwafels in the box in packages of eight.  Now that you know more, order a case of stroopwafels and surprise your family, treat your coworkers or employees, or add a sweet touch to the family reunion. 
| | |
| --- | --- |
| Weight | 142 oz |
| Dimensions | 14 × 10 × 8.5 in |
Google Reviews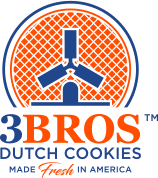 Based on 90 reviews