Stroopwafel Cookies Make a Great Gift
This cookie gift box makes a great gift for anyone on your list.  It will suit the person who has everything, the person that's hard to buy for, the person who receives many gifts from you, and the person that you don't know well. 
Of course, stroopwafel cookies are a favorite treat for those lucky enough to have had them in Europe or to have tried our fresh stroopwafel cookies.  These lucky people will feel especially lucky when you send them this gift box.  However, many are not familiar with the Dutch cookie, and they will find stroopwafels cookies to be a welcome change of pace. 
There's a bit of the international traveler in every 3Bros cookie gift box. It's like packaging up a bit of Europe and sending it to your best pal, your sweetheart, a favorite family member, or an old friend.
Say Thanks! This cookie gift box is the ultimate thank you note, and all you have to do to personalize it is to say a few words in the "order notes" at checkout. 
Why Choose Our Stroopwafel Cookies As a Gift
When you give a gift, you want to be sure it's quality, and that's exactly why you want our stroopwafel cookies.  3Bros stroopwafels are baked fresh and shipped fast, leaving those pre-packaged stroopwafel cookies far behind.  
With 16 in the box, these treats are sure to make appearances at breakfast, show up at coffee breaks, and sweeten the end of a long day.  Each treat will remind the recipient of your kindness.
Made to exacting Dutch specifications, these stroopwafel cookies have the authentic taste that makes foodies happy.  Yet you don't need to be a gourmet to appreciate this sweet treat. It will please everyone.
If you have a business, this is a good way to say thanks to customers or employees. A sweet treat always hits the spot! Contact us if you need to order in bulk. 
So, why not send the treat that will be a hit every time?  Choose this 3Bros cookie gift box and send the sweet flavors of Holland to someone in your life. Order now!
Google Reviews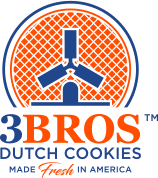 Based on 90 reviews